Uttar Pradesh
is a Capital of Indiana and Location in Hero Emblem Hero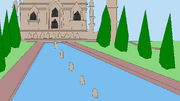 During The Roots of Evil Arc and DarkForce 5 Arc Hero Sapphire For The Roots Arc And Hero Garnet Came Here During The Darkforce 5 Arc
Hero Emblem
Edit
Roots of Evil Arc
Edit
During The Doom's Tree Arc The Doom Tree Spread his Roots across The World the Roots Reached Uttar and Planted its Roots Around Taj Mahal Hero Sapphire Came to Uttar to Stop it Sapphire also Met Two Boys That Survived The Roots Drain Those Two Boys Later Become The (WonderfulNet Heroes) Hero Sapphire Was able to Destroy The Great Root at Taj Mahal.
DarkForce5 Arc
Edit
After The Darkforece 5 Planted Dark Points Across The World This Time Hero Garnet Joins Hero Emblem For This Arc Hero Garnet Returns to Uttar taking Sapphire's Place while Hero Sapphire Went to Singapore Hero Garnet Face off Against Ginger Thanks to The Two Future Wonderful Net Heroes The Dark Point is Destroyed.
Hero Emblem II
Edit
Two Boys Name Know as The Wonderful Net Heroes Are Seen Defeating a Terrible in Front of Taj Mahal And Saved The Mayor And Are Greeted By Fans in Episode 008 of Hero Emblem II International Heroes Arc Lionel Travel to Uttar to Me Uttair Mahaju and Pradesh Tajj Aka the Wonderful Net Heroes During The Phantom Kingdom Arc Uttar was Targed By King Phantom's Knights The Two Are Seen fighting Only Uttair Was Seen Among The International Heroes in Hero Emblem II Episode 46 Both Return Fighting Red's Knight With Taj Mahal Being The Battleground With Everyone Sealed inside mirrors Thanks to Hero Emblem II's Power The Wonderful Net Heroes Gain Their Shining Forms and Send Their Powers to Hero Emblem II During His Final Battle With Red Who Turns Out to be Lionel's Hatred.
Both Uttair and Pradesh Have almost the same names as their Homecountry
The Wonderful Net Heroes Colors Are Based on Their Flag Green and Orange.
Ad blocker interference detected!
Wikia is a free-to-use site that makes money from advertising. We have a modified experience for viewers using ad blockers

Wikia is not accessible if you've made further modifications. Remove the custom ad blocker rule(s) and the page will load as expected.