The Five Bracelets Were Five Bracelets on Sera That Had Mystic Abilities Were Own By Five Girls in The GoW Series Each Bracelet Respects The Colors Shape The Bracelets Can Also Switch Modes All Five Were Own By Each Member of The Cog Soldiers With Valarie Bracelet Being Taken By Merag Afeer RAAM Killed Her and Merag Takes Her Bracelet as a Memoto.
Abilities
Edit
Each Bracelet Has an Ability to Teleport Away or Teleport Someone away The Bracelet can Also Create a Bubble Shied Each Bracelet Shines Bright and creates a Sound Not Only The Bracelet Can Also Act as a Blinking Signal Sign of the Other Bracelet Holder The Five Bracelets Said if All Five Came Together a Miracle Can Be Brought Together
Mana Fenix
Edit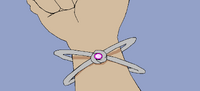 Mana's Bracelet is Item Own By Her given to Her by Her Mother Passed Down By The Fenix Family The Bracelet Has a Pink Jewel Set in it And Has Four Long Silver Bends The Bracelet can Also Be Folded its Ability Teleportion and Creates a Bubble shield and Shines to Blind All Enemies.
Onwer: Mana Fenix Elaine Fenix (Originally)
Rin Scott
Edit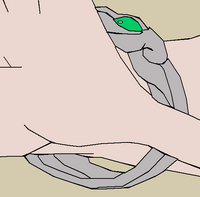 Rin Scott's Bracelet is Item Own By Her given to Her by her Father Passed Down By the Scott Family The Bracelet is a Large Silver thick Bends With a Green Gem Stone Set in it The abilities Allow Rin to Perform a Tuning able to Create Tech Items
Owner: Rin Scott Unamed Mother (Originally)
Marin San Diego
Edit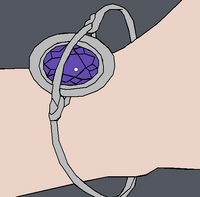 Marin San Diego's Bracelet is Item Own By Marin Passed Down By The San Diego Family The Bracelet can Heal Anyone Marin touches This bracelet is the Healing Method.
Owner: Marin San Diego Unnamed Mother (Originally)
Varlie (Originally) Megag
Edit
Varlies Bracelet was The Forth Bracelet Own By Varline Currently this is Only Known Bracelet not Yet to Activate its powers or Abilities it Originally Belong to Varlie Before She was killed by RAAM and Merag Takes it And now owns it.
Owner: Merag (Stolen) Varlie (Originally) Unnamed Mother (Originally)
Unknown 5 Bracelet
Edit
Ths Bracelet is Missing and its Unknown Who May Has it The Bracelet is Still Unknown or unsee and Does not Belong to Anyone.
Owner: Unknown
Its Implied That the Last Bracelet is a Blue Gem Set As The Legendary Satures in The Cog Graveyard Shows Five Figures However the Last Bracelet holder Satue is Destoyred and Only a Blue Color is Seen
Its Either unknown Why The Red Bracelet Has not Yet Activate its ability
Ad blocker interference detected!
Wikia is a free-to-use site that makes money from advertising. We have a modified experience for viewers using ad blockers

Wikia is not accessible if you've made further modifications. Remove the custom ad blocker rule(s) and the page will load as expected.