Rome is City in The Hero Emblem Universe And Capital of Italy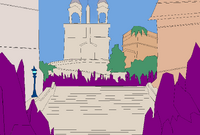 Hero Emblem R
Edit
Rome was one of The Cities to Find a Dark Shard Planted During The Invasion Arc Tachi Came Here and Faced Tiger on Top of the Twin Steps Rome is Later Visted During The Hero Emblem World Tour Arc
Hero Emblem II=
Edit
This Time Two Boys Became Heroes in Rome Under The Names Hero Pantalon and Hero Estivn Assign to Protect Rome From The Forces of the Phantom Order of The Red Knights.
in Hero Emblem R The Buildings Were All Brown The Lamps Were Dark Blue in Hero Emblem II The Buildings are Ligher Grey and The Lamps
were missing and Palm tress were added it.
The Twin Steps is where Hero Topaz Fought Tiger and Now in Hero Emblem its Where pantaloni and Estivin Fought Hero Phantom
Ad blocker interference detected!
Wikia is a free-to-use site that makes money from advertising. We have a modified experience for viewers using ad blockers

Wikia is not accessible if you've made further modifications. Remove the custom ad blocker rule(s) and the page will load as expected.