Lionel's House is His Home in
Utopia
its a Home Where Lionel Lives With His Family Lionel's House is Located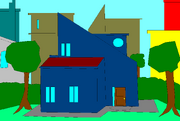 in East Hill of Utopia He Lives Close to School Despite Being Late For School He is Also Close to The Utopia Shopping District and Utopia Tower is Seen From His Bedroom in The Future His Family Still Lives there,
Know Residents
Edit
Lionel Head
Cla Head
Rolins Head
Joshwa Head
Theroin Head
Leda Head
Cliea Head
Rails Head
Lionel's Room
Living Room
Cla And Rolins's Room
Joshwa and Theroin's Room
Leda's Room
Cliea's Room
Rail's Room
Kitchen
Study Room
in Manga Lionel's House Was Color Light Blue and Had a Red Bricks For His Perch in The Comic The house is Colored
White and a Few Windows Added in Some Episodes Some Windows are missing Along with The Neighborhood's Houses Changing Colors and Missing Their Windows The Tree Sizes also Changed in Some Episodes.
Ad blocker interference detected!
Wikia is a free-to-use site that makes money from advertising. We have a modified experience for viewers using ad blockers

Wikia is not accessible if you've made further modifications. Remove the custom ad blocker rule(s) and the page will load as expected.